---
Structural Design Services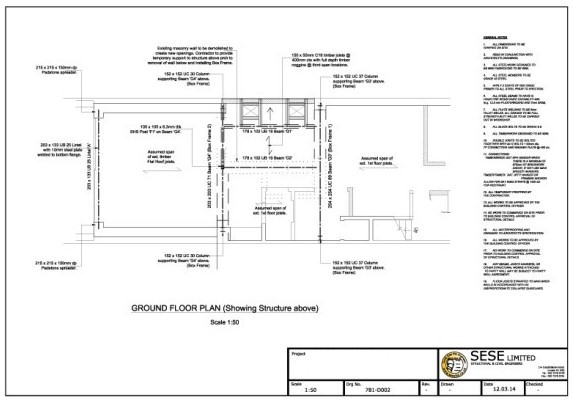 Be it a brief site visit to provide building control calculations for a single RSJ or to design a 3 storey new build block of luxury flats; the SESE team can help.

Able to tailor our service for architects, contractors and developers alike the SESE engineering team have worked on drawings and calculations for both small and large scale structures. This side of the SESE team often assist with building control applications, permanent structural designs and temporary works designs
Our structural design team are known for providing an accurate and reliable service to a client base that has become accustomed to getting exactly what they need exactly when they need it.

If you are already sure and clear of what you need simply select BOOK AN ENGINEER. Alternatively, please feel free to call us now to find out more.
What are Structural Calculations?
Structural detail design and building control calculations explain in both pictorial (details) and numerical (calculations) the potential load that is to be carried by a proposed structure; whereby, this structure has to be able to withstand the load bearing pressures of the environment it is designed for while remaining safe and stable throughout its design life.
Does a structural engineer need to visit my property prior to our commencing construction work?
No not always, as this depends on the quality of information provide i.e. through photos, videos and other professional drawings; however a visit would always be advisable if you are at all unsure about the make up of your existing building. The reason for our visiting site is to determine whether or not existing walls are structural and if so whether or not it requires extra support in terms of steel beams, lintel supports or similar.
How much does a structural engineers visit cost?
This depends primarily on the location of your site; however, a brief site visit and visual assessment would typically cost between £150.00 and £250.00 +VAT in London with a follow up written report costing an additional £125.00 +VAT per hour if required.A site visit for the design of single beam over an opening (together with the necessary bearing checks) would typically cost in the region of £395.00 +VAT but can be more depending on your end supports required.
A typical loft conversion would normally cost from £750.00 + VAT with larger lofts costing more depending on your drawing requirements.
How much does a residential extension design cost?
WThis depends on the type of residential extension you are doing. If it is a single storey rear or single storey side extension then this would cost around £750 +VAT. If your residential extension is both a side and rear single storey this would be closer to £1,500 +VAT and so for all structural designs a soil investigation is required, however most London projects are assumed to be founded on London Clay; which can be verified by trial holes/pits.
Trial pits themselves usually start around £100 per pit depending on accessibility, local hazards (i.e. Japanese knot weed or buried electricity cables) and other risk based assessments.
Where ground conditions are more complex we would need to see a soil report as well as trial pits so as to check the condition and type of existing foundations that are already be in place.
Setting Out Time:

"April Street, E8 – (8:00am to 11:30am) AM Part-Day Setting Out as instructed on site. – £325 +VAT."

Setting Out Task:

"Barnsbury Square, N1 – , Set Out 15no. Pile Positions. – £295 +VAT."

GPR Surveys:

"Haverstock Hill, NW3 – , 350m2 Area PAS128 Type B (M3P) Footpath GPR Survey – £750 +VAT."