---
Below Ground Survey Services
Ground Penetrating Radar: GPR PAS128 Type B – Ground Survey Service
Call Us Now: 020 72 78 07 78
Underground Utility Locating Services
As a utility surveyor, we detect underground services through our GPR ground surveys on projects all over the UK.
Our below ground survey services include schematic topographical plans, CAT & Genny Scans, and a range of GPR underground scanning services that enable us to produce geophysical survey drawings.
Our geophysical plans and sections are often used to demonstrate the detection of underground land drain services, buried voids, tree roots, and various strata anomalies.
GPR Services
Our public and private utility locating GPR services combine to form PAS128 Type B survey drawings to Ordnance Survey coordinates for long term utility survey drawing records.
Our PAS128 Utility Survey environments, include scans through everything from reinforced concrete slabs and pavements, to grass covered fields and footpaths. These ground penetrating radar surveys are designed to reduce Type A excavated survey cost overruns by creating images of the subsurface and identifying buried objects.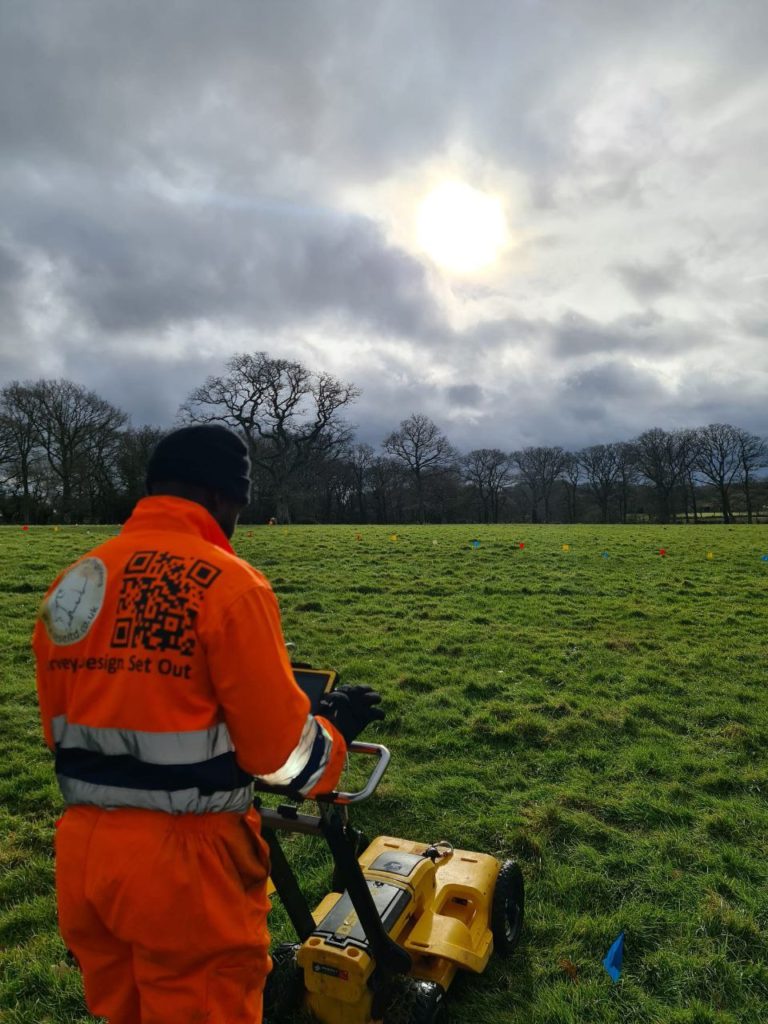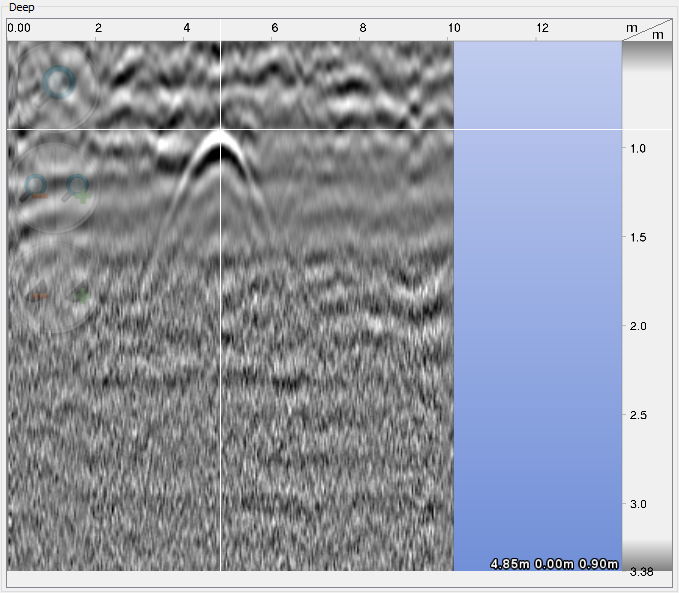 SESE geotechnical survey services cover pavement surveys, footpaths and open fields. We also have a range of concrete scanning services.
As one of the UK's leading utility survey companies, we can help identify everything from gas pipes 0.9m below ground (pictured above) to concrete strata many metres deep (pictured below).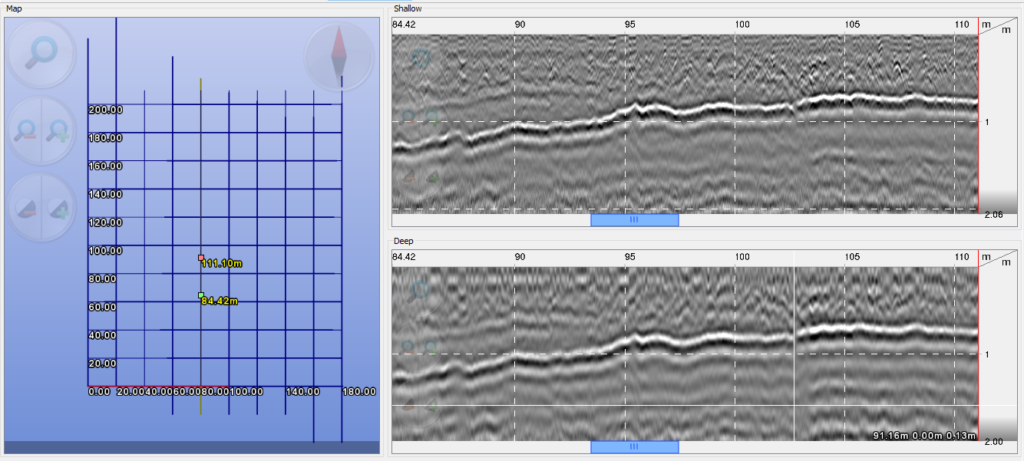 As certified utility surveyors, we provide a wide range of ground survey services and work with individuals, contractors and developers in need of GPR services in London and the Southeast.
As well as high quality subsurface GPR scans we provide quick and easy CAT & Genny ground scanning services throughout the same London and UK Southeast regions for the full PAS128 experience.
Ground Penetrating Radar (GPR) is one of many pre-construction georeferenced mapping and underground scanning services we provide. Our GPR below ground surveys help identify utilities, reinforcement and other subsurface structures and voids. Using electromagnetic energy, our scanning systems create plan images of the subsurface using both high and low frequency radar pulses.
GPR Survey London Team
Trading since 2003, our Pas128 Type B Survey Certified GPR utility map surveyors help alleviate construction risk before any groundwork starts by carrying out a GPR service clearance. This is in order to make the overall cost of a development more predictable. Our GPR surveys help map out your subsurface, to deliver PAS128 Type B underground GPR utility survey drawings within days.

SESE utility surveyors use dual frequency instruments for the best results. High frequency radar is used to detect objects at higher resolution such as tree roots and reinforcement in concrete slabs and roads. We use low frequency radar to detect conduits, pipes, HV cables, structural voids and possible sinkholes.
With us, you do not have to choose between resolution quality and penetration depth. Our GPR reports are issued with both low and high frequency scans and our radar scanners reach a typical depth of 3m.
Our GPR survey service can help project managers identify utilities, reinforcement and a range of other below ground services. As an ISO quality assured service, our ground penetrating radar surveys are ideal for finding buried services and subsurface structures.
Although we primarily produce subsurface GPR scans and below ground surveys of London, we do not only provide our GPR services in London. Our team are happy to work all over the UK as we understand that the expertise in getting a GPR survey right is not easy to find. Wherever you are in the country.
How GPR Surveys Work
As a Geophysical survey technique, the reflected radar signals from subsurface structures are detected by our GPR surveys. The quality of the returned scan signals depend on the subsurface characteristics of the ground. Where ice and sandy soils tend to give clear scan data, London clay is by definition a clay-laden soil. Hence, London clay along with saline-rich soils are one of the more difficult ground types to work with. Both because they allow very little energy to penetrate them and because they share similar dielectric properties to the services buried within them.
Both clay and saline-rich soils have a conductivity that is similar to the pipes in which most services are encased. As it is the change in permittivity at a boundary that enables radar energy to be reflected back to a receiver. It often takes a highly skilled GPR surveyor to interpret and map out findings correctly.
Underground scanning services
For a below ground survey to detect HV cables, voids or other definitive objects; the GPR survey underground scanning services chosen must be able to detect the contrast between dielectric properties. This ranges from the metal reinforcement in concrete slabs to the water in a pipe.
Below ground survey services such as Ground Penetrating Radar survey scans are just one of many measured survey services we provide. It is not unusual to book our GPR service in conjunction with other engineering services, such as construction setting out and movement monitoring.
Our topographical survey land measurement services are also often combined with our GPR service for a more wholistic land survey deliverable. For large area projects, our sUAV aerial drone surveys also help improve the same 3-dimensional perspective on your GPR survey.
Feel free to Call Us Now for more information, or see if we have answered any more of your questions below.
Why use a ground penetrating radar service?
GPR surveys help contractors to improve on both safety and efficiency as a non-destructive survey technique. Pas128 type B surveys can help avoid striking subsurface utilities in both built up areas and open farmland. This is particularly useful where cable routes may not have been recorded accurately.
High quality GPR underground scanning services offer a quick and professional alternative to detecting nonconductive utilities. This is particularly useful as buried services cannot always be detected by a utility surveyor using a CAT & Genny alone.
How much do GPR ground radar services cost?
Our primary region of GPR services is London. As a guide, a subsurface GPR survey in London or the Southeast would cost approximately £750 +VAT per day.
For a Pas128 Type B survey, time is also required in the office post-processing the data. Hence, a Pas128 Type B survey inclusive of CAT & Genny clearance total cost usually starts from approximately £900 +VAT.
How long does a GPR ground survey take?
A GPR utility scan of an area approximately 200m2 can take from as little as 2 hours to as long as 2 days to survey. This is because a GPR survey time depends on both your recommended swath intervals and your ground surface conditions. A muddy field recorded at 250mm swath intervals may take at least two days to scan. An empty carpark of similar size consisting of well compacted subsoils topped with smooth asphalt at swath intervals of 1m would likely take two hours. A GPR utility surveyor would need the same amount of time again to post-process the ground survey report.
How accurate are GPR Surveys?
The accuracy of a GPR utility survey depends on how well a GPR instrument is calibrated at the start of a geophysical survey. Calibration is required on every surface and is set based on the geophysical properties of the ground at that location. A GPR surveyed boundary is typically +/-0.01m accurate relative to the true position if calibrated well.
Setting Out Time:

"April Street, E8 – (8:00am to 11:30am) AM Part-Day Setting Out as instructed on site. – £325 +VAT."

Setting Out Task:

"Barnsbury Square, N1 – , Set Out 15no. Pile Positions. – £295 +VAT."

GPR Surveys:

"Haverstock Hill, NW3 – , 350m2 Area PAS128 Type B (M3P) Footpath GPR Survey – £750 +VAT."