---
Measured Building Survey Services.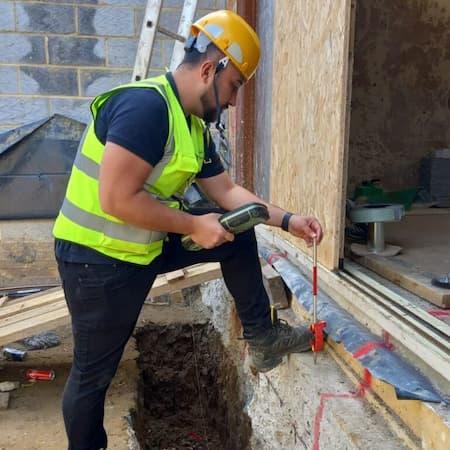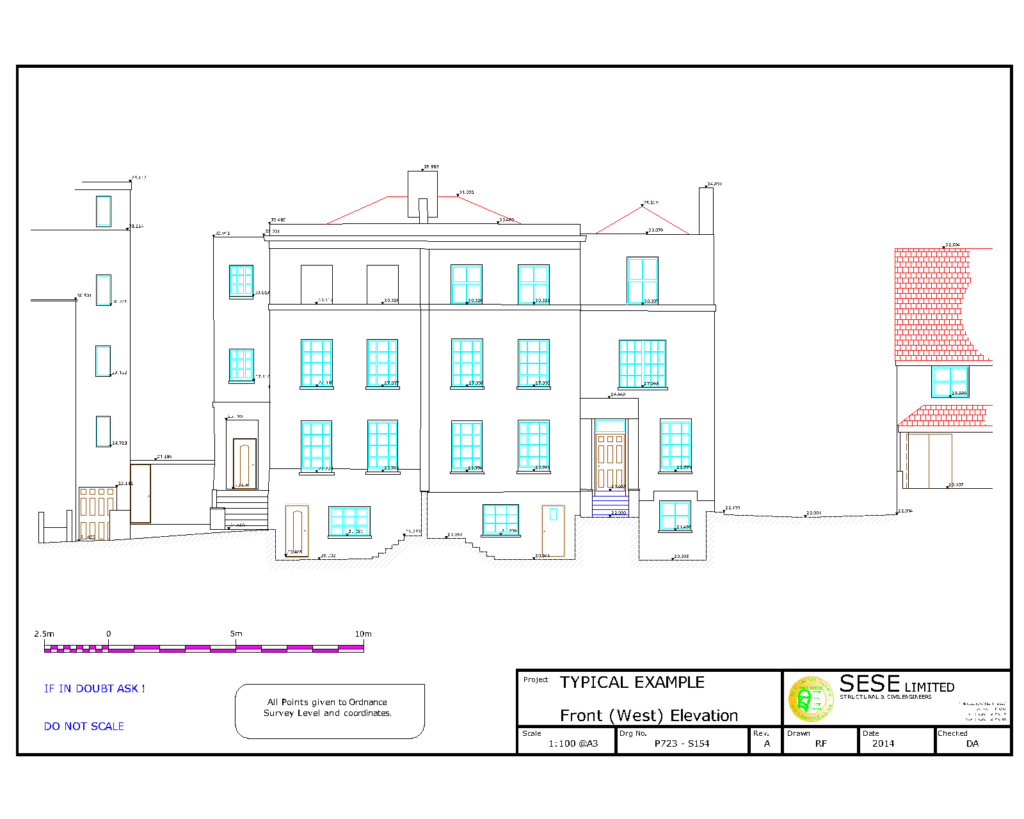 3D Measured Surveys
We are a London based measured survey company that have been in practice for over 20 years and operate country wide. Our measured building survey packages include building elevations, internal GFA floor plans, detailed Roof Plans (pictured) reflected ceiling plans, and cross sections.
The building information model (BIM) measured surveys we produce often come combined with topographical plans. Any of which can be delivered in a range of formats including PDF and DWG.
Field Surveyor
As South East Site Engineers our field surveyors use a range of measured building survey techniques. Selecting the one that suits you depends on whether you are:
Carrying out a building refurbishment
Submitting a right of light planning application
Recording historic building dimensions for future reference
in need of accurate floor plans to help your property sale
or new-build phased handover validation reports.
We use laser guided instruments throughout our measured building surveys. This means all of our professional drawings are accurate to above industry standard for as-built floor plans, reflective ceiling plans, or any geospatial survey in between.
Measured Building Surveys – Before a development starts
Our measured building surveyors produce existing gross floor areas, sections, and elevation surveys for building control purposes. These building measurement drawings help developers, architects and construction planners ensure their designs are correct.
Measured Building Surveys – During construction
You need a surveyor to check building work progress.
During construction, clients use our as-built surveys to check against and verify measured works. Our as-built drawings and validation reports are delivered on completion by our site engineering surveyors.
Measured Building Surveys – After practical completion
After completing a project, developers and landowners often use our measured surveys for long-term record or property sale purposes. Our post-construction survey reports include built-up area (BUA) survey and gross floor area (GFA) survey calculations. Measured as 3D surveys, these as built drawings can be flattened to 2D PDF and 2D DWG drawings as standard.
Measured building surveys can be booked in conjunction with our range of other services. These include setting out, ground penetrating radar GPR surveys, structural design and structural movement monitoring amongst other survey services.
Want to see our measured building survey London based land survey prices? Simply click on either of the measured building survey price buttons at the top of this page. Alternatively, you can call or email us now to find out more.
What is Land Surveying?
Surveying comes in many forms as it simply means to capture a view. These include social points of view, professional views of building conditions, or dimensional views of a physical land mass. It is a land surveyors job to help clients and architects view the topography of their land and measured buildings. These captured views are used to determine three-dimensional positions in space, relative distances and absolute angles of a project.
How much does a topographic survey cost?
Professional topographic land survey fees typically start from around £750 in London. These drawings are often surveyed on OS(GB)36 National Grid one day and drawn up in a further day.
Measured Survey fees tend to rise from here based on the need for additional measured building surveys. These can include internal floor dimensions, reflected ceiling bulkheads on floor plans, or window heights, entrance threshold and sill levels on elevations.
For a full set of plans, sections and elevations on a basic two-up two-down London property with both a front and read garden from us; you can expect to pay around two thousand pounds.
How long would it take to do a measured survey of my house?
You can expect a typical two-up two-down mid-terrace property in suburban London to take two days to survey. A 3-storey school or office block with about 10,000sqm of floor space would take four weeks to survey. As long as the property is not too cluttered, everything else would scale somewhere along this line.
Our clients often require a topographic plan of site as part of their measured building survey package. As this is an additional measured survey service, the time taken depends on the area of land being surveyed. The time a topographical survey takes is also influenced the number of trees, services, changes in surface and activity on site.
What is the best way to book your service?
The best way to book us depends on your level of construction knowledge. The most convenient way to book if you have a clear understanding of your needs is via our online app. If you are unclear of your site engineering, structural design or surveying needs call us now on 020 7278 0778. Alternatively, email us at enquiries@seseltd.co.uk where a member of our team will be happy to help.
Setting Out Time:

"April Street, E8 – (8:00am to 11:30am) AM Part-Day Setting Out as instructed on site. – £325 +VAT."

Setting Out Task:

"Barnsbury Square, N1 – , Set Out 15no. Pile Positions. – £295 +VAT."

GPR Surveys:

"Haverstock Hill, NW3 – , 350m2 Area PAS128 Type B (M3P) Footpath GPR Survey – £750 +VAT."