---
Construction Setting Out Services
Call: 020 72 78 07 78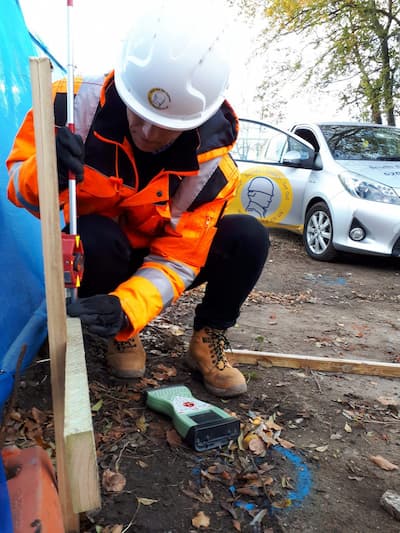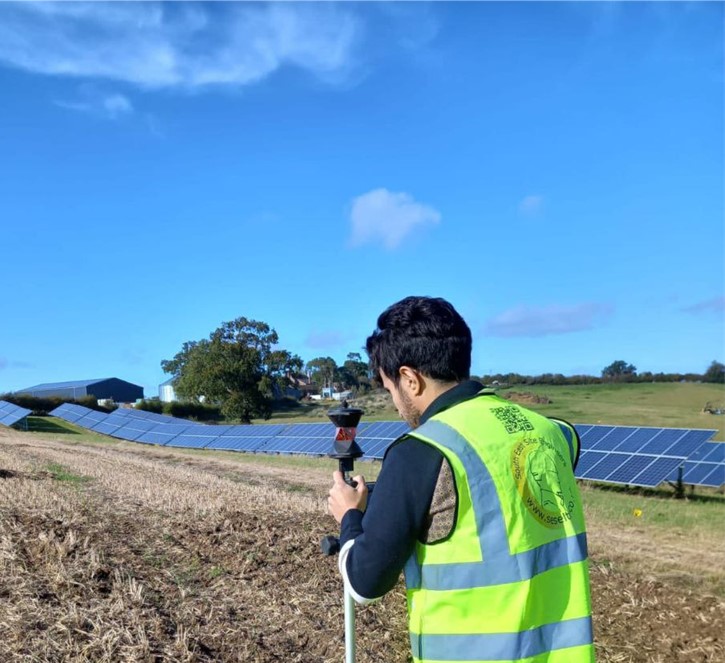 Construction site engineer, civil site engineer, setting out engineer and construction surveyor are all terms used to describe the same professional. The aim of this professional is to provide construction surveys and setting out services. As specialists, we ourselves primarily site engineer London, the Southeast, and further afield for long-term clients.
As a London based professional construction site engineer and survey site engineering consultant, our site engineering services range from site engineering surveys of work under construction, to GPS setting out foundations and brickwork.
SESE construction site engineers deliver Setting Out and Site Engineering services on construction projects throughout London, the Southeast and beyond. Knowing client challenges well, we always endeavour to keep the same construction site engineer in attendance on your building project. We also have your needs covered by the rest of our team and our robust range of engineering survey services.
Watch this video to see how you too can book a setting out engineer in as little as 60 seconds. For contractors searching for a setting out engineer near me, we could be the solution you've been looking for.
Setting out 3 times a week, once a month or twice a year. We have your setting out service needs covered.
SESE deliver a cost-effective project management alternative to having a professional construction site engineer in full-time attendance.
By establishing initial site control points SESE can provide construction levels and progress drawings throughout your building project. We also mark out site boundaries and access roads using Ordnance Survey coordinates for BIM ready deliverables on phased projects.
We are proficient in many sectors beyond building construction, provide setting out services for solar farms, wind farms and more. Our renewable energy clients often engage us for other engineering survey services including GPR utility surveys and topographical land surveys. With projects all over the UK, we use robotic total stations to carrying out closed loop traverses and datum level transfers. Our setting out team provide solutions in many areas throughout the construction process. Everything from site grid lines and pile positions to drainage pop-up locations, stanchion baseplate centrelines and external brickwork returns. These are all day to day tasks for us.
A good construction site engineer provides structural accuracy and client peace of mind…
Our Fixed Price and Day Rate construction site engineering services make the cost of your building project more predictable. We enable self-builders, contractors and developers to have a cost-effective alternative, where setting out is not needed every day. This is all done without reducing the confidence and consistency of having the same professional engineering surveyors on site. Having the same site engineers manage the setting out and measured surveys for your building project means peace of mind.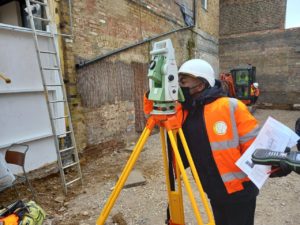 With offices in Kings Cross, London, our site engineering consultants are happy to talk you through our most value-added solutions. From quality assured as-built information to brief site visit checks, we have a construction site engineering service for you. Countrywide.
When surveying, our construction site engineers require your construction phase setting out drawings usually from your architect or structural engineer. Time permitting, our setting out engineers review items such as your construction levels, drainage levels and your outline of building. With our pre-stored GPS coordinate setting out for large projects or local coordinate grid for smaller projects. Our team are then ready to set out foundations, steel columns (stanchions) brickwork and whatever else is required on site.
Marking out large area ground mount pile positions for a solar farm to setting out drainage on an infill site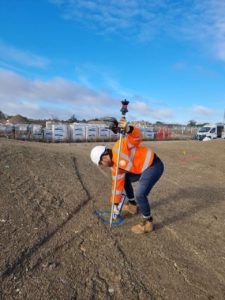 All of our clients are treated with the same respect whatever their project size. Whether we are setting out brickwork or setting out steel construction packing levels; we are here to help. Our office based site engineering consultants are happy to advise on what to expect from us on site. Whether we need you to provide setting out pegs and steel pins for heavier duty construction phases. Or if the survey nails and sprays that our site engineering surveyor carries as standard will suffice.
As-built site engineering surveys are another aspect of what your designated construction site engineer can produce. Whether we are civil engineering in London, Luton, Reading or Rainham our aim is to deliver quality.
Click on either our Day Rate or Task Rate QUOTE button above. Alternatively, call us now to find out more about our construction site engineering services. For our setting out engineers to attend on a Saturday call our office now for a special arrangement quote.
What is Setting Out?
Setting out is the first step in positioning a building. For structural accuracy and peace of mind, professional setting out enables predictability of cost in the building project construction phase.
How much does a construction site engineer cost?
If professionally sourced, a site engineer can cost anywhere between £325 and £750 depending on the intricacy of work required. Steel baseplate centerlines for instance can be time consuming with a high level of accuracy required. Whereas, tree planter locations or lampposts can usually be marked out in a few hours without a high level of accuracy required. Another price influencer would be whether or not the task is best done by an engineer alone, or by an engineer and an assistant engineer with surveying instruments.
Typically, if a site engineer is on their first attendance it is likely that their fee would include an assistant as Site Controls may need to be validated based on Control Stations many meters apart and often outside your site.
To help put our own price work and day rate costs in perspective with regards to site setting out fees, it is best to first understand what the site engineer has to do with regards to your building position and the general dimensional risks we are taking on; hence the question you need to ask yourself is how costly is the task if things go wrong and is your site engineering service provided properly insured for this risk. If it is a high risk project that you are undertaking, then expect to pay fees towards the higher end of this fee bracket.
What are construction site gridlines?
Gridlines are the baseline offsets for a building construction project. For a well planned project, these gridlines would be at sensible perpendicular intervals throughout, with their locations chosen by the architect for everyone else involved in the project to work from and reference back to.You can expect gridlines to be at about 6m intervals on a typical London construction project, getting either larger or smaller depending on structural member locations such as column and external load bearing walls and features such as curtain wall positions, sprinkler alignments and lighting arrangements.
Gridlines are set out using a number of different methods such as Pegs and Profiles in softer ground at the start of a project, Hilti-type Survey Nails in harder tarmac, floor screed and concrete floors partway through a project and Sprayed String Lines on boundary walls, slabs and columns later on in the project for a new build or quite early on during a refurbishment project …to name but a few.
These gridlines are often produced as offsets relative to neighbouring properties or as is becoming more common these days, relative to either OS(GB)36 or WSG84 National Grid or another representation of a national scale grid as opposed to a Local Grid.
Can I book an engineering surveyor without having any drawings?
Yes you can book an engineering surveyor without providing drawings beforehand through our standard day rate service. However we always advise that you forward fully dimensioned DWG drawings as well as a minimum of 3no. Control Station (or offsets from adjacent properties) well before our attendance on site so that our engineers can prepare their coordinates beforehand and you can make the most of our time on site.
In cases where you book without forwarding us your drawings, we would still need to have your hard copy Construction Issue Setting Out drawings on site; which is just as effective but a slightly slower site engineering procedure.
The quickest and simplest way to book our standard day rate service is to click on the "Book An Engineer" button at the top of this page and select our Setting Out Time (Day Rates) service.
Setting Out Time:

"April Street, E8 – (8:00am to 11:30am) AM Part-Day Setting Out as instructed on site. – £325 +VAT."

TESTIMONIAL

Peter A, Director – "Thanks guys, pleased I've found you."

Setting Out Task:

"Barnsbury Square, N1 – , Set Out 15no. Pile Positions. – £295 +VAT."

GPR Surveys:

"Haverstock Hill, NW3 – , 350m2 Area PAS128 Type B (M3P) Footpath GPR Survey – £750 +VAT."