Ground penetrating radar (GPR) although a relatively new surveying technique for the construction and measured surveys industry, has been in use for almost a century as a scanning technique in both the medical and military arenas.
As a non-destructive engineering survey technique, below ground GPR surveys are an alternative underground utility mapping service, for environments where trial pits, boreholes and other forms of visual inspection are not the most feasible measured survey options for producing a utilities map.
A project GPR survey cost is usually made up of just a few factors, such as the size of the plot to be surveyed, the surface conditions, and the depth of scan required as these three factors determine which instrument would be best suited to the task.
As a PAS128 Type B survey, all our GPR survey services are managed by a professionally qualified GPR utility surveyor, and with our GPR Survey UK office based in London, we are within easy access of projects all over the Southeast.
An underground utilities survey is just one option for the use of ground penetrating radar, as it is also becoming commonplace for contractors wanting to locate reinforcement in concrete slabs, and developers in need of underground void surveys for a better idea of the homogeny of their land.
GPR Scanning works by sending a pulse of energy into a material via an antenna, a reflection of that pulse is then received (through a receiver) and processed (by a computer) where both the strength of the returned signal and the time it takes for that signal to return are recorded.
As these reflections are caused by changes in material properties, this works brilliantly in well graded ground but is a problem in backfilled soils; it is one of the roles of a GPR utility surveyor to be able to spot the difference.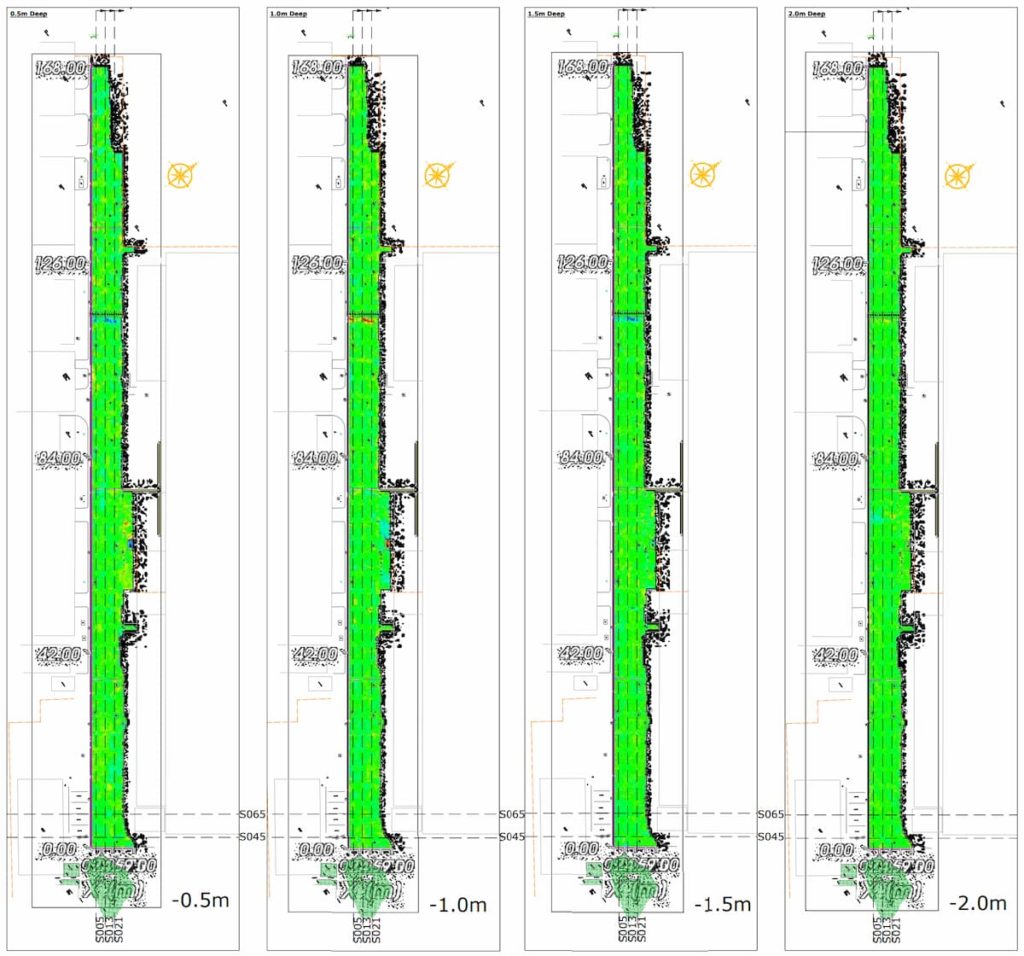 A ground penetrating radar survey cost can also vary depending on the type of deliverables you need. A brief on site visual inspection of B-Scans would be cheaper than a postprocessed report which typically includes topographical surveys and merged C-Scan tomography plans to help clients visualise exactly what is happening at predetermined depth intervals.
Safety is often the main reason for a below ground services survey and detecting whether there are pipes, conduits, structural voids, and reinforcement within a dig area beforehand will help avoid having to make the decision between penetration, or resolution as accidental penetration can be extremely costly and even cost lives.
As a supplier of engineering surveyor services all over London and the UK Southeast, our ISO quality assured below ground survey services can also be booked in conjunction with our other services including terrestrial topographic land surveys, construction work setting out, movement monitoring surveys, and fixed wing sUAV arial drone surveys for a comprehensive engineering survey package.
For an instant quote on how much a ground penetrating radar survey should cost UK wide, click HERE to use our FREE GPR Service Quote App; and receive our price via email in as little as 60 Seconds.
Alternatively, if you have any questions or require any further information, please don't hesitate to contact us on 02072780778 now to find out how much your ground penetrating radar survey should cost.