All too commonplace within the construction industry, are stories where a small error in positioning and setting out can cause immense knock-on effects to the project and bottom-line. The block of flats in Colchester that were built the wrong way around just last October, a £12m development project in Stane Park where a mis-position of a few centimetres caused months of delay. A new build house in Mendlesham Green, Suffolk with a demolition enforcement action notice for being 4.5m out of position and a Cineworld in Cambridgeshire that was built in the wrong place – twice, initially mis-positioned by 75cm and then 36cm.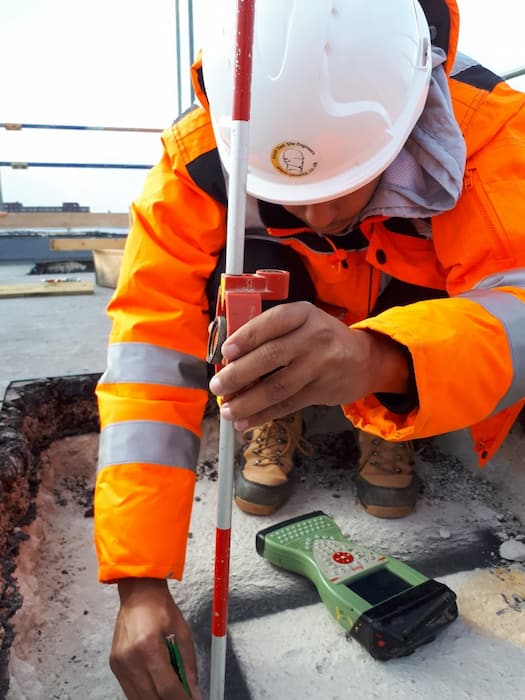 The importance of robust and professional site engineering services cannot be stressed enough, whatever the scale of your project.
Whether it is grid line setting out or setting out brickwork, the importance of an engineers' line and level accuracy never diminishes. A good setting out site engineer will ensure that your build accuracy is maintained by always checking, double-checking, and then triple-checking the work throughout the construction setting out process as all too often the role and importance of a skilled and experienced site engineer is underestimated until it is too late.
Construction site setting out has always been one of the primary tasks of site engineers. Often studying degrees like Civil Engineering and Geodetic Surveying, there are many routes into becoming a site engineering surveyor and positioning millions and sometimes billions of pounds worth of assets.
As a site engineer, setting out tasks vary from day to day, from setting out construction infrastructure such as the pile positions of a new build to marking out the overlay of measured surveys from existing utilities; with plenty of site levels, drainage runs and gridlines in between.
Hiring competent site engineers for site setting out projects is particularly important in dense cities such as London, where land values are high, and accuracy is vital given the limited space.
Professional setting out exists to introduce greater predictability to the cost of a construction project by reassuring contractors, developers and self-builders of their dimension and location accuracy
If you have any questions or require further information about our setting out engineer services, please do not hesitate to contact us. At SESE Ltd we have a wealth of experience and knowledge in providing setting out services across London and the Southeast. To find out if your project would benefit from any of our site engineering services or for a quick setting out surveyor quote call our office on 020 72 78 07 78 during office hours, or click HERE at any time, 24 hours a day 7 days a week.