Site engineering surveyors are one of the very first people a property developer would engage when considering any form of construction or refurbishment of their property or land.
It is often the developers' architect that first engages a site engineering surveyor for the initial measured building survey or topographical land survey, depending on whether it is for a new build development or for the refurbishment of an existing development that the property owner has in mind.
Once the land or property has been measured accurately, and both the structural engineer and architect have added their respective load bearing and visual design elements; it is then back up to the site engineering surveyors to start with the precise construction setting out services required at each phase of the project. More about this can be found in our article on the importance of a professional setting out engineer.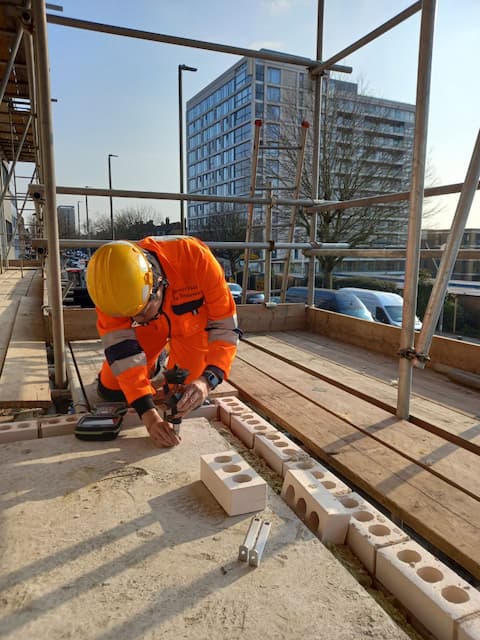 When it comes to setting out a building for example, the civil site engineer or construction site engineer (as the engineering surveyor would then be called during this phase) will often start by setting out temporary works like the hoarding line, access road and piling mat; before marking out the new structural and visual elements of a development.
Once any temporary works have been spray marked, pegged, and profiled, the setting out of building elements would often then commence with the site engineer setting out foundations and site datum levels.
Due to the inconsistent nature of site engineering survey work, freelancers are often called in to do a few days work here and there before being called again a few weeks later to do a bit more setting out; however, the problem here is often 3-fold in that a) the same site engineer may not be available for required future dates, meaning that a new freelancer will have to get their heads around what has been set out already, b) like any game of chance, a contractor can be hit and miss on the quality of freelance engineer engaged to mark out required works on any given visit, and c) accountability is far more limited with a freelance setting out engineer than a specialist firm of site engineering consultants. Hence, when it comes to setting out a building, a good alternative to a freelance setting out engineer is a site engineering surveys company that specialises in construction work setting out like we do at South East Site Engineers.
If as a developer, architect or contractor you are at the stage where your precise building position is a must and are not in need of construction setting out services on site every single day; our in-house site engineers can be booked either over the phone or online at any time of day, avoiding many of the problems associated with booking ad hoc site engineering services. Whether setting out foundations like ground mount pile positions, setting out steel for the superstructure, or setting out brickwork for curtain walls; if you are looking for a site engineer UK wide simply click HERE to get an instant online quote or call us now on 02072780778 where a member of our team is ready to help.