Structural Movement Monitoring, put simply, is the process of measuring and assessing the effects of a construction activity, demolition activity or civil engineering companies' groundworks activity on an adjacent structure, usually within a metre or so of the construction site. This damage monitoring survey technique is carried out over fixed predetermined return periods (during the Pre-construction, Construction and Post-construction phase) with the readings given to the client together with an easy-to-read graphical illustration of any movement.
WHY IS STRUCTURAL MOVEMENT MONITORING REQUIRED?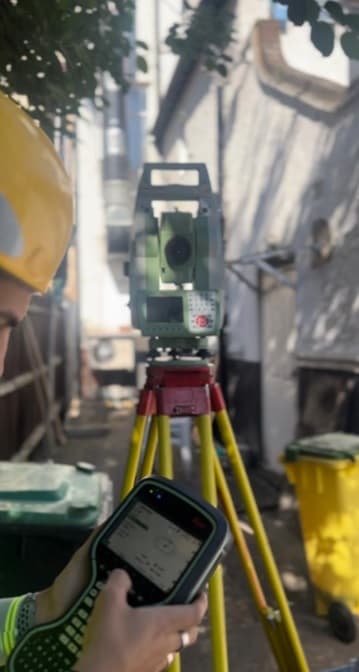 During the proposed excavation and construction of a basement for example, monitoring building movement, nearby assets, and the structure itself – are all very critical parts of a safe working process. A robust building movement monitoring system provides early warning, through regular or continuous monitoring, and a robust ground movement monitoring system will help the early identification of any excessive and undue ground movements that may affect nearby infrastructure, or the construction work itself.
Using a traffic light system of Green – to indicate compliance, Amber – to indicate safe cessation of works and further involvement of surveyors, namely, to further inspect the area for cracks and defects, Red – to indicate involvement of the structural Engineer to review the systems of work before resumption of works on site. All of which allowing for the implementation of preventive and remedial action in good time, reducing risks, protect assets, construction workers and the public. At South East Site Engineers Limited we pride ourselves in delivering quality services to our clients; we commence with an initial installation visit, followed by a series of control visits usually at least three visits prior to commencement of construction activities, to collate accurate base readings of the structures requiring monitoring, and then continue periodically with visits daily, weekly, monthly, annually as required by the agreement in place, the nature of works being carried out or the current phase of construction.
WHY CHOOSE US FOR YOUR STRUCTURAL MONITORING SURVEY?
At SESE our structural movement monitoring and measured building surveyors have an excellent reputation for commercial and private property monitoring services and specialise in building surveys for homes and businesses throughout the UK.
From our office in Islington, London, our site engineering and setting out team deliver valuable advice and guidance in order to assist prospective and current clients, such as borough councils, construction companies, demolition companies, property owners, architects, structural engineers, and private developers in making viable decisions about their projects.
We have over 20+ years' experience at your disposal, so not only are our engineers highly competent at dealing with different forms of residential and commercial structural movement monitoring, we also integrate and deal with a range of setting out engineer services like gridline setting out and building profiles, as well as GPR services and topographical surveys for homes and businesses alike.