One of the questions our monitoring surveyors often get asked at SESE Ltd is whether structural movement is the same as subsidence? The simple answer to this is no; however, I'm sure, since you have opened this article, you would like to know why.
Subsidence is caused by the settlement of a grounds structure, whereas structural movement can be caused by a whole host of anomalies, including the settlement of ground strata.
Ground settlement is the downward movement of the ground, generally caused by changes to stresses levels in the strata and can either be natural or manmade. It is often caused by water (or the lack thereof). For example, a natural cause for those of us living near the coast may be a stratum layer with a high sand content; this layer could be meters deep, and still be getting slowly washed away by the incoming and outgoing tide. Another example could be an inland property built on strata with a high London Clay content, as the clay swells and shrinks through the seasons, the structure built on it may experience subsidence if its foundations are insufficient to handle the vertical stress applied.
CORE have written an interesting research paper on the shrinking and swelling effects of London.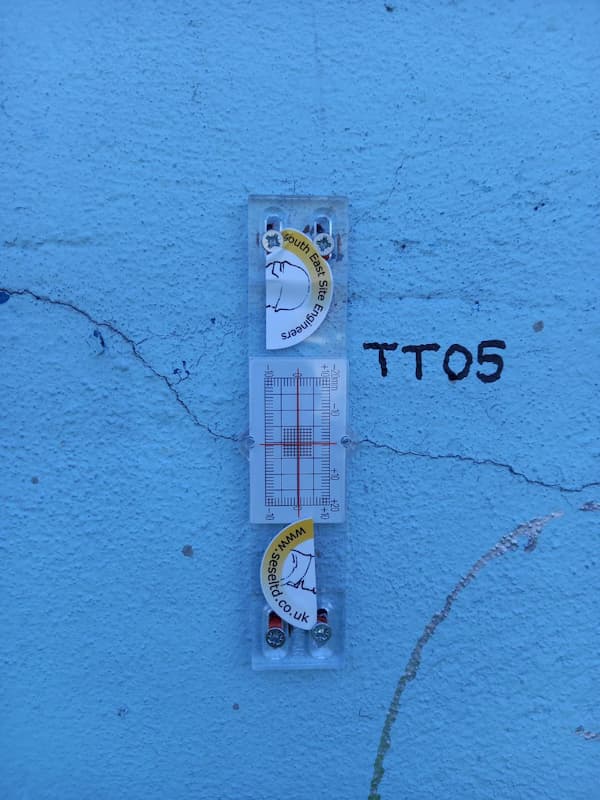 Another example of natural structural movement may be from a nearby tree whose roots have grown over the years to the extent that it has started to damage the foundations of your building.
Manmade causes of subsidence can include fracking vibration, nearby mining, and damaged drainage. Damaged drainage being where storm or foul water may be leaking through a poorly sealed joint or a cracked pipe, slowly the soil around this leak will be eroded away if it's not addressed. This can result in oversaturated ground or worse still – sinkholes; voids created below ground. As these voids get larger, they can no longer take the load from the ground above it, causing subsidence or worse.
Manmade causes of structural movement include construction work, demolition work and tunnelling. All of which can result in a structure moving in any direction, not just downwards.
I have written more on below ground voids and how SESE can help detect them in our April GPR Survey article on How much should a GPR Survey cost. For our ground penetrating radar survey cost for detecting voids, tree roots and utility pipes you can also click HERE to go straight to our FREE GPR Quoting App.
As alluded to above, whether a building is experiencing structural movement or subsidence, the most important thing is to monitor any building movement as soon as possible to help formulate a plan for remedial works.
Why carry out structural movement monitoring
As it increasingly becomes part of a developer's construction phase plan, structural movement monitoring will not only help determine whether any building movement is due to subsidence or another form of structural movement, it also helps determine the extent of any damage being caused.
By implementing what we call trigger levels, a weekly monitoring report can help determine when different forms of remedial action need to be taken.
For example, building movement monitoring is often specified by party wall surveyors with weekly structural monitoring survey reports as a minimum prerequisite for major construction works, especially those taking place in close proximity to a neighbouring property or a major infrastructure.
The exercise of monitoring building movement is a preventative measure; and the building movement monitoring systems used at South East Site Engineers are designed to be non-intrusive unless specified otherwise by a party wall surveyor or structural engineer.
Our range of high-tech instruments, mean we rarely need to physically touch a building to detect movement to +/- 0.002m, which helps determine whether any potential structural movement is due to local construction work or as a result of subsidence.
For more about our range of movement monitoring services, you can visit the movement monitoring page of our website HERE.
What if the structure I want to monitor is already damaged?
A damage monitoring survey is slightly different to a movement monitoring survey as there must be a visible form of existing damage there already; whether it is a hairline crack or a wall that is starting to lean due to suspected ground settlement or another cause of structural movement.
Wall movement monitoring can be carried out as standard on walls that have already started to move; however, crack movement monitoring is better surveyed via crack monitoring tell-tale indicators.
As part of a structure movement monitoring report, tell-tale crack monitoring is reported periodically by a monitoring surveyor so as to measure whether there is a change over time, or if the existing damage has stabilised.
For more on the different forms of movement, vibration and damage monitoring surveys available, the ICES have produced an in-depth guide at https://www.cices.org/content/uploads/2013/05/Client-Guide-to-Instrumentation-and-Monitoring.pdf. You can also contact SESE to discuss your specific project requirements.
How much would a building movement monitoring survey cost
The cost of a structural movement monitoring report depends on the location of a project as well as how many walls and points need to be monitored.
Movement monitoring projects in London cost from as little as £325 +VAT with same and next day monitoring surveyor attendance available for all our measured survey services including crack tell-tale monitoring and vibration surveys.
Booking a monitoring surveyor online in under a minute
Clients in need of either building movement monitoring reports or damage monitoring survey reports in London, can book a monitoring surveyor through our FREE online Quoting App and automatically receive a personalised on-the-spot price straight to their email in as little as 60 seconds by clicking HERE.
Once you have given a project location and preferred start date, select the days you want us, how frequently you want us, how many walls and points you need monitored, then select "reflectorless" if you do not think you need us to physically touch any walls. You can also click on the chat box below at any time in the process if you need more guidance from a member of our team.
As a supplier of engineering surveyor services throughout London and the UK Southeast, our ISO quality assured building movement monitoring services can also be booked in conjunction with our other services including below ground surveys, construction setting out, topographical land surveys, and fixed wing sUAV arial drone surveys for a more comprehensive site engineering survey package.
If you have any questions or require any further information, please don't hesitate to call us now on 020 72 78 07 78 to find out how we can help with your structural monitoring surveys in and around London.